Heather Woods Broderick

voice

Peter Broderick

guitar, voice, violin, melodica, piano, drums, percussion, juno

Nils Frahm

piano, percussion, juno

Friedrich Störmer

upright &
electric bass
— Photograph by Terese Wallbäck —
Send a letter send a letter send a letter send a letter send a letter send a letter etc. etc. etc…
The repeating melody and text at the beginning of this song correlates to the countless number of letters exchanged between myself and a good friend / ex-lover during much of 2008 and into 2009. T (as I often called her in writing) was living in Sweden, myself in Denmark, and as if that distance weren't enough, I was constantly on the move, traveling around the globe to play concerts.
These letters became a focal point, not only for our relationship, but for my life in general. Perhaps part of it was the thrill of doing something so old fashioned in a time where slow communication is virtually unacceptable. Or maybe it was just the same old reminder that having something tangible, something you can hold in your hands which you must take care of if you don't want it to become damaged or destroyed, will always be more precious than anything in the cyber world.
Yet here I am, publishing this story on the internet. Welcome to the golden age of contradictions! The text in the middle of this song is from the point of view of one my letters to T:
I will start with 'Dearest' and end with 'Love'
And I will be on your floor in two days
Read me, read me over and over
Place me, place me under your pillow
When I first set out to record this song, I was planning to include recordings of T and I reading letters out loud, mixing them into the song in one of the many instrumental passages. I chose one of my favorite letters from T, and she chose one from me, and we each recorded ourselves reciting them. In the end I never found a way to mix them into the piece.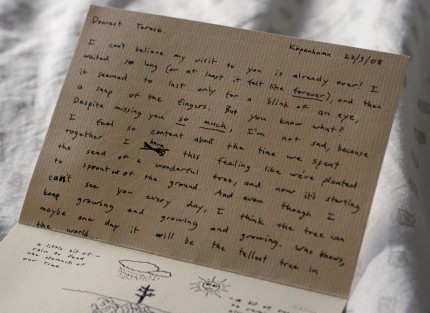 Everything I tried felt unnatural and a bit too cheesy. But since this song (like many others on the album) was recorded more than once before arriving at the final version, I've taken an earlier (unfinished) version of the song and put the letter recordings in there. I always loved the ridiculous feedback jam at the end of this older version, but I also felt a strange tension when showing it to other people, which led to the more subdued ending on the final recording, with an additional four last words:
Love,
Peter Ray Broderick