Peter Broderick

voice, guitar, violin

Friedrich Störmer

electric bass
— Written by Steven Broderick —
Christmas 2008, after a cozy dinner with my mother and sister, Mom pulls out an old cassette tape labeled 'Steven at Marco's', from 1979. And after sharing some nostalgic stories she puts the tape in the player and hits play. The sound instantly takes me back to a few vague memories from my childhood, memories of a tape containing a song my father wrote when he was 19, pulled out on rare occasions, always to Pop's discontent.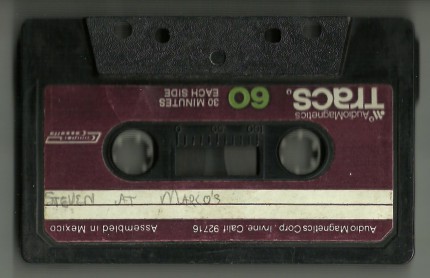 My father, Steven Broderick (aka Pop), is and has always been for as long as I can remember, a closet musician. He loves to play music, but as soon as someone appears to be listening he stops immediately. The best way to get a song out of him is to wait until one day he picks up the guitar and starts to play while you sit in the next room and pretend not to listen.
When we were children (before the age of listening to music 'critically') he was more relaxed about it, softly picking his nylon string guitar by the fireplace at night with the family around. But even then, he never sang. I always knew that on that cassette tape lie the only evidence he ever did sing, even though as a child I probably wasn't too curious about hearing it.
But this night at Mom's house, I was all ears. As the tape rolled I was bubbling with ideas about how to bring this song back to life. The man coming through the speakers had something to say, something pouring out of his soul and onto the tape. I knew that very moment I wanted to find a way to share this recording with the world, and I knew I had to make a cover version of the song, Blue.
What message can they bring to you
To tell you that it's true
If you'd only let them sing to you
Then you'd see through, when you are blue
Well when I woke up in the morning dew
I tried so hard to hide my feelings true
Then I looked around at the things I didn't do
And it made me blue, so blue
When you realize you've hurt your pride
And you feel there is no place that you can hide
You'd better find the love that's deep inside
Or it will make you blue, so blue
What message can they bring to you
Open up your heart and let the feelings come on thru
There is so much that they can do for you
It will make you true, instead of blue
Well when the morning turned to afternoon
I felt my troubles had multiplied too soon
But you can't hide behind a needle and spoon
'Cause it will make you blue, instead of true
When you turn around and try to see the new
But all you see is darkness overtaking you
You'd better realize right then what's hurting you
Or it will keep you blue, so blue
What message did they bring to you
To let you see the other side of blue
All you did was let them sing to you
And it made you true, instead of blue
Just let them sing to you