Mads Brauer

percussion, electronics

Peter Broderick

guitar, percussion, voice, piano, violin

Nils Frahm

percussion

Friedrich Störmer

upright bass
— Photograph and last two sentences by Colin Kenniff —
Over the last several years, a constant source of inspiration for me has been the quiet creative output of Colin Kenniff. His photographs, words and music. You can't buy these things in a store. They have only been available on blogs and other online sources like flickr, and often just for a short period of time before being taken down.
I have tried to encourage Colin on several occasions to release some kind of album, as I firmly believe that more people out there would love what he does just as much as I do. Sometimes I even received replies which seemed promising. And maybe someday there will be a 'proper' collection of his work available. But after several attempts at convincing him I began to realize that maybe this simply wasn't his way.
And perhaps that's why I was so drawn to his work in the first place. While most artists seem to be always yearning for a larger audience and wider recognition, Colin seems content sharing his creations with the select few who happen to stumble upon them. The exact opposite of making a huge advertisement campaign and throwing art in everyone's faces.
I must also admit that I've always felt myself overly focused on the end result. Yearning to hold the finished CD in my hand and calling it complete. That's not to say I don't enjoy the process of creating things. But I think sometimes I rush through things in order to get to the finish line a little faster. So in addition to being so enamored with Colin's work itself, I have also been in awe of his approach, what comes across to me as an infinitely wise kind of patience.
This song was made for Colin. In the first section I describe my dedication to his work and life on this planet:
I wait around till the image appears
Then it's a melody to my ears
And I know as long as you create
I'll be here with my empty plate
Always and forever
Always and forever
Move to my town then disappear
Not that it matters 'cause I'm gone a year
But I thought I'd come back and you'd be there
Making a photo of my empty chair
Always and forever
Always and forever
How many musics have you made?
Even more than the hundreds I've played
And I think that it's a treasure of gold
Filling my heart as an empty mold
Always and forever
Always and forever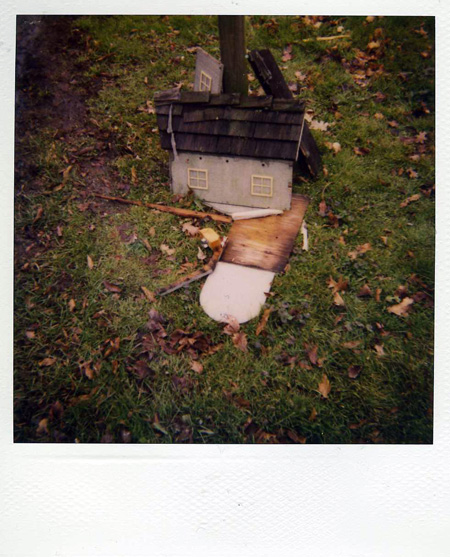 The text in the end of this song comes directly from a comment exchange Colin and I once had on his flickr page. He posted the photo above and this tiny conversation followed:
Me:

I hope the little people inside survived?

Colin:

They did. It was a small miracle.